Fixed stands
FIXED INDOOR STANDS
Fixed stands from Husson offer an unlimited number of possibilities in terms of dimensions and rows, to adapt to all rooms.
For making stepped terraces for sports (sports halls, swimming pools, ice rinks etc.) or cultural venues (auditoriums, theatres). Always made to measure, in harmony with the place of installation.
FIXED OUTDOOR STANDS
With or without roofs, fixed outdoor stands from Husson are ideal for receiving the public safely in stadiums, motor sports circuits etc.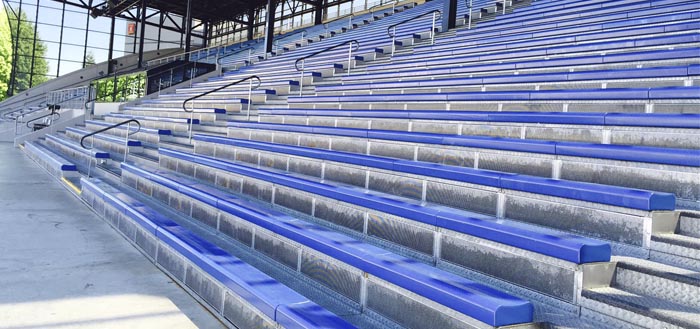 More information:
Husson advantages
extensive experience in the area of fixed metal stands
sales engineers close to you, assisted by an integrated designing department with comprehensive 3D CAD resources to provide you with optimised solutions regardless of your project.
proven ruggedness thanks to materials, machining and assemblies that have been tried and tested
a wide choice of seats and finishes, accessories, colours etc.
Very high safety, thanks to our commitment to go beyond compliance with national and European standards and regulations (EN 13200).